What is a Certified Public Tax Accountant?

About Japan Federation of Certified Public Tax Accountants' Associations

 
Information
Zeirishi System marks 70th anniversary
20 Nov. 2012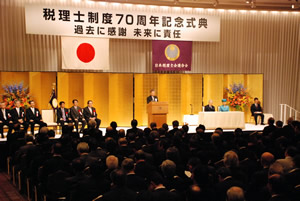 Japan's tax professional system was born in 1942, when the Tax Practitioners' Law, forerunner of the current Zeirishi Act, was enacted and this year marks the 70th anniversary of the system. To celebrate this, JFCPTAA held a commemorative ceremony on 5 November 2012, with the theme of "Gratitude for the Past and Responsibility to the Future" at the Imperial Hotel in Chiyoda-ward, Tokyo. The ceremony, with the attendance of Their Imperial Highnesses Prince and Princess Hitachi, was attended by as many as 800 people including Minister for Internal Affairs and Communications Shinji Tarutoko, other distinguished guests domestic and overseas and 650 zeirishi, certified public tax accountants.

Followed by a silent prayer for our deceased members and the victims of the Great East Japan Earthquake, the ceremony started with a brilliant stringed melody performed by students of the faculty of music, the Tokyo University of the Arts. All attendees stood up to welcome Their Imperial Highness Prince and Princess Hitachi and then sang the national anthem. The program of ceremony proceeded solemnly.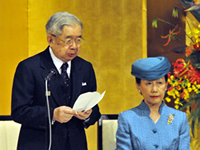 After JFCPTAA President Ikeda made a greeting looking back at the history of 70 years, His Imperial Highness Prince Hitachi delivered an address mentioning that the roles which zeirishi have been played for 70 years were praised and that further developments of the zeirishi system was expected. The words of His Imperial Highness were deeply engraved in the heart of all zeirishi present.

Subsequently, Minister Tarutoko gave a congratulatory message, other congratulations by ministers were introduced. Lastly, Vice President Kawamatsu read aloud the declaration for the 70th Anniversary of the Zeirishi System to express our gratitude to our predecessors for having built up the system and to responsibly succeed it to the next generation.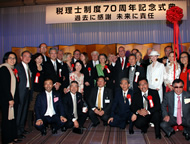 Followed by the ceremony, the commemorative lecture entitled "Recreating Japan: Working toward a Platinum Society" by Dr. Hiroshi Komiyama, Chairman of Mitsubishi Research Institute and President Emeritus of the University of Tokyo was performed.

A series of events of the day ended with a grand reception, held in a friendly atmosphere, to which a lot of distinguished guests overseas and domestic were invited.


= Program =


◇ Commemorative Ceremony

Musical performance
Entrance of Their Imperial Highnesses Prince and Princess Hitachi
Performing of the national anthem
Opening declaration
Presentation of the federation flag
Greeting by JFCPTAA President
Address by His Imperial Highness Prince Hitachi
Congratulatory addresses from guests
Departure of Their Imperial Highnesses Prince and Princess Hitachi
Musical performance
Guest introductions
Reading of congratulatory messages
70th anniversary declaration
Closing message

◇ Commemorative Lecture
◇ Reception
Greeting by JFCPTAA President Ikeda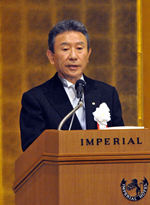 We are extremely honored and grateful to be able to hold this ceremony commemorating the 70th anniversary of the zeirishi system in the presence of Their Imperial Highnesses Prince and Princess Hitachi and many other distinguished guests. The theme of this ceremony is "Gratitude for the past and responsibility to the future."
The Great East Japan Earthquake that struck on March 11 last year brought unfathomable loss to the people of Japan. This immense disaster was a national tragedy that has had a massive impact on our government, economy, and culture. Even today we feel the deep wounds that the disaster inflicted. Many lives were taken from us, and we feel great sorrow and sympathy for those who are gone and those they left behind. All of us in Japan must work as one to bring about recovery and revival, and as swiftly as possible.
"Zeirishi" refers to a certified public tax accountant, and the zeirishi system in Japan has its roots in the Tax Practitioners' Act enacted in 1942. The zeirishi system has gone through a number of changes since its creation.
The history of the Japan Federation of Certified Public Tax Accountants' Associations and of regional zeirishi associations throughout Japan is the history of the zeirishi system itself. The zeirishi system has made substantial progress over the past seven decades, and the federation has grown into a group of tax specialists with over 73,000 members. Our members have solidified their positions as certified specialists indispensable to the country and people of Japan.
Today, zeirishi are expected not only to fulfill the duties set forth in the Tax Practitioners' Act but also to serve their clients in a variety of other ways. It is our mission to fully meet the demands and expectations that the public places on us and to proudly contribute to society.
Our goal is to ensure that the zeirishi system continues to support the self-assessment system, contribute to securing a foundation for the nation's finances, and provide convenience to citizens and taxpayers. To achieve this goal, as experts in taxation we zeirishi must fulfill our duty to ensure that tax liabilities are appropriately realized, help improve the taxation system and its administration, and actively give back to society by helping people with their taxes and educating them about taxes.
On this day of the 70th anniversary of the zeirishi system, we express our gratitude to our predecessors for having built up the system, and we renew our spirit of dedication to passing the system on to the next generation and continuing to contribute to the needs of society.
In closing, I would like to express my sincerest wishes for the continued prosperity of the Imperial House of Japan and the health of everyone attending this ceremony.




AOTCA convenes 2012 regular meetings, 3rd International Tax Convention in Seoul
15 Nov. 2012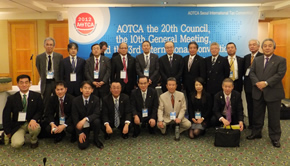 The Asia-Oceania Tax Consultants' Association (AOTCA, President Mr. Gil Levy) convened the 2012 Seoul Meetings at JW Marriott Seoul on 18th and 19th October 2012, hosted by the Korean Association of Certified Public Tax Accountants (KACPTA, President Mr. Chung, Ku-Chung). This year marking the 20th anniversary of AOTCA, the 3rd International Tax Convention was held in addition to the 20th general council meeting and the 10th general meeting. The convention was attended by as many as 600 overseas and local participants, and from the Japan Federation, President Ikeda, Vice President Ishii (JTRI President), Senior Managing Director Asada, all members of International Relations Committee headed by Director Tomori, other members and accompanying persons, who numbered 163 people in total, participated in the convention.

In the morning meetings of 18th October, various important agenda including the business plan and budget of Fiscal Year 2013, election of new officials, new memberships were deliberated. Based on the AOTCA's mid-term visions "to become a tax professional organization which is widely recognized as an influential body", several challenges such as promoting the project on Taxpayers' Charter in collaboration with STEP and CFE, strengthening its international relationship with CFE and SGATAR were included in the business plan.
Another pillar of the agenda was reviewing the membership annual fee. The general meeting approved that the annual fee will be increased according to the size of a member organization.
As for election of AOTCA officers for 2013-2014, Mr. Thomas Lee from the Taxation Institute of Hong Kong was newly elected as president, and Mr. Toshihiro Ikeda, JFCPTAA President as deputy president. And Mr. Noel Rowland from Australia was re-appointed as secretary general.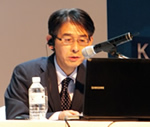 Also, two new bodies from Singapore and Malaysia were approved to join AOTCA, which boosts 22 members from 16 countries and regions.



Following the regular meetings the International Convention was held with special presentations and diversified technical sessions in the afternoon of 18 and all day of 19 October. In the technical sessions two members of International Relations Committee represented the Japan Federation to make a presentation. In the session on "Regulations of Tax Professionals" Dr. Mitsuya Hasebe pointed out issues on obligations and regulations related to zeirishi under the Zeirishi Act (CPTA Act). In the panel discussion on "Multi-disciplinary Practice" Mr. Kazutaka Takiya explained a present situation and perspective on MDP with other professionals in Japan.

AOTCA will hold regular meetings in Hanoi next year and in Taipei in 2014.
56th General Meeting held in Tokyo–
27 July 2012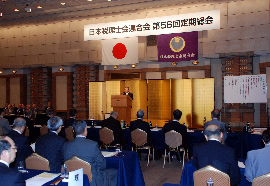 On 26 July 2012, JFCPTAA convened its 56th General Meeting at the Imperial Hotel in Chiyoda-ward, Tokyo. In this annual meeting were unanimously approved the business and budget plan for the fiscal year 2011 and other five agenda.
The reception, which took place after the General Meeting, was attended by some 500 participants including many guests from various fields, former JFCPTAA officers. Representing the distinguished guests, Mr. Tatsuo Kawabata, Minister of Internal Affairs and Communications and Mr. Yukihisa Fujita, Senior Vice Minister of Finance gave a congratulatory address.
Japan Federation and Korean Association meet in Osaka for regular opinion exchange
20 July 2012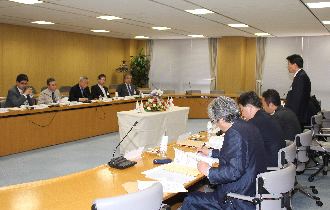 On 2 July 2012, the Japan Federation of Certified Public Tax Accountants' Associations (JFCPTAA) and the Korean Association of Certified Public Tax Accountants (KACPTA) held the 16th regular meeting at the Kinki regional association's hall in Osaka. The meeting was attended by President Ikeda, Vice President Omae, Senior Managing Director Takada, Director Tomori, Deputy Directors Tajiri and Takami of the International Relations Committee from JFCPTAA, and President Chung, Ku-chung and other 5 officers from KACPTA. Since 1997 this meeting between Japanese and Korean bodies has been annually convened in Japan or Korea by turns to share experiences and to exchange opinions on issues which both bodies face.
At the beginning of the meeting, President Ikeda expressed his gratitude to Mr. Chung for receiving the Plaque of Appreciation at the ceremony for the 50th anniversary of KACPTA held in Seoul in April this year.
The discussion highlighted how to grant qualifications of the profession. In Korea, the CPTA Act, amended in December last year, abolished the provision that CPAs were qualified to become CPTAs. KACPTA President Chung explained the process how this provision was abolished, and said it is of great significance that this amendment of the Act has blocked automatically to open the Korean market of taxation services to foreign CPAs through FTA or other agreements.
JFCPTAA explained to the Korean delegates about the present situation of Japanese market of taxation services, participation of CPTAs in the Adult Guardianship System in Japan, and protection and management of personal information in tax accounting offices.
Before the meeting was held, KACPTA President Chung and other officers visited Keiyu-Zeirishihojin in Osaka, where Mr. Shuichi Kanatani, representative of the corporation explained the structure and business details of Japanese tax professional corporation.
Officers of Japan Federation awarded by Korean Association for long lasting friendship
17 May 2012
On 30 April, 2012, the Korean Association of Certified Public Tax Accountants (KACPTA) held a commemorative ceremony at COEX Seoul to celebrate the 50 anniversary of the Association. The ceremony was attended by Mr. Kim, Hwang-sik, Prime Minister of South Korea and other many distinguished guests, and from Japan, President Toshihiro Ikeda, Vice President Kaoru Omae, Senior Managing Director Tsunehiro Asada and other officers of JFCPTAA.
At the ceremony, five JFCPTAA members, who were President Ikeda, Senior Advisor Teruaki Kataoka, former president Kinjiro Mori, Advisor Kazuyuki Sekimoto and member Masuyoshi Kosugi, received the Plaque of Appreciation from Mr. Chung, Ku-jung, KACPTA President for their long lasting efforts to promote mutual understanding and friendship between both bodies as well as development of profession in both countries. On behalf of the Japanese awardee, President Ikeda made a short speech, "due to much effort by incumbent and former officers and solid unity of members of KACPTA, the role and importance of CPTAs have firmly taken root in the Korean society. I would like to express my respect for all members of KACPTA. For more than 20 years KACPTA and our Federation have continued friendly exchange. I will make further effort to keep our friendly and cooperative relationship for the sake of development of our profession in both countries."
Founded in 1962 with membership of 131, KACPTA has been established in a steadfast position as the sole professional organization of taxation in Korea with 10,000 membership. JFCPTAA and KACPTA concluded a friendship agreement in 1991. Since then, both bodies have promoted mutual cooperation for further development of the profession in Japan and Korea.
Tax officials from Vietnam visits JFCPTAA for study on Japan's tax professional system
27 Mar. 2012
On 29 February 2012, tax officials headed by Mr. Bui Van Nam, Director General of the General Department of Taxation of Vietnam (GDT) and Ms. Nguyen Thi Cuc, President and Ms. Ha thi Thu Thanh, Vice President of the Vietnam Tax Consultants Association (VTCA) visited the hall of JFCPTAA in Osaki, Tokyo to study Japan's tax professional system as well as the structure and activities of Japan Federation of Certified Public Tax Accountants' Associations.
On that day when snow rarely covered Tokyo, JFCPTAA President Toshihiro Ikeda, Vice President Kaoru Omae, Senior Managing Director Tsunehiro Asada and, from the International Relations Committee Director Hiroaki Tomori, Deputy Director Yoshimasa Tajiri and Deputy Director Masahiko Takami welcomed 14 Vietnamese delegates.
At the beginning of the meeting President Ikeda made a welcome address, "Japan's tax professional system is a pioneering presence with a long history of 70 years. Over the years, we, having built social confidence as tax professional, are proud of having contributed to the smooth operation of self-assessment scheme and to stabilizing national finance. I hope today's study meeting will help for the development of tax professional systems and tax administration in Vietnam."
The lectures were made consisting of 3 parts, Part 1: Historical development of tax profession in Japan and of JFCPTAA lectured by Deputy Director Takami, Part 2: Activities of JFCPTAA lectured by Director Tomori, Part 3: Professional Services of CPTAs lectured by Deputy Director Tajiri.
Followed by the lectures, the Q&A session was so vigorous with various questions raised by Vietnamese delegates, such as the organization of National Tax Council, which conducts the CPTA Examination, the content of opinions made by JFCPTAA concerning the amendment of CPTA Act, details of training programs organized by JFCPTAA, ethical standard to keep the dignity of CPTAs. Especially, the well-informed Vietnamese visitors had a strong interest in how JFCPTAA participates in the process of amending the CPTA Act, which will be scheduled next year.
In Vietnam, the tax professional system was legally introduced in 2008. Since then, various measures have been implemented to defuse and develop the profession. To support their activities related to Vietnamese tax profession, JFCPTAA concluded the friendship agreement with VTCA in 2010. Since then, JFCPTAA and VTCA promote mutual understanding and cooperative relationship for the development of tax profession in both countries.
New Year's Reception held in Tokyo
20 Jan. 2012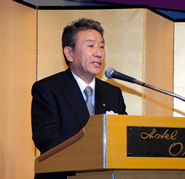 On 12 January 2012, JFCPTAA hosted an annual New Year's Reception at Hotel Okura in Minato-ku, Tokyo.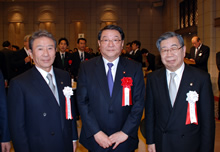 The reception was attended by as many as 632 guests from business, politics and other fields including 79 Diet members and 232 of their deputies, who wished mutual happiness and good health as well as business prosperity for the year. Distinguished guests included Chief Cabinet Secretary Osamu Fujimura, Internal Affairs and Communications Minister Tatsuo Kawabata, Agriculture, Forestry and Fisheries Minster Michihiko Kano, Health, Labor and Welfare Minister Yoko Komiyama, and Senior Vice Minister of Finance Fumihiko Igarashi.