What is a Certified Public Tax Accountant?

About Japan Federation of Certified Public Tax Accountants' Associations

 
Information
AOTCA convenes 2013 Meeting in Hanoi―The 2015 Meeting to be held in Osaka, Japan―
27 Dec. 2013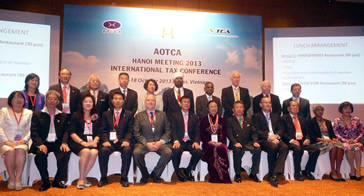 The Asia-Oceania Tax Consultants' Association (AOTCA, President Mr. Thomas Lee) convened its 2013 Hanoi Meetings at Sheraton Hanoi Hotel in Hanoi, Viet Nam on 17th and 18th October 2013. Hosted by the Vietnam Tax Consultants' Association (VTCA, President Mdm. Nguyen Thi Cuc), this year's meeting was attended by nearly 200 overseas delegates and a few hundreds of local tax experts. From the Japan Federation of Certified Public Tax Accountants' Associations (JFCPTAA) , a total of 11 delegates including President Toshihiro Ikeda, Vice President Hiroaki Tomori, Senior Executive Director Katsuzo Nakamura and members of International Relations Committee headed by Chairman Yoshimasa Tajiri, attended the Hanoi Meeting.

On 17th October, the 11th regular general meeting started with the dedication to the late Teruaki Kataoka, AOTCA's founding President. Honorary Advisor David Russell delivered a speech dedicating the late Mr. Kataoka, who made great efforts to found AOTCA during his presidency of JFCPTAA and all present at the meeting stood in silence for 1 minute to show their respect for this great founder of the association.
The meeting deliberated various important agenda including the business plan and budget of Fiscal Year 2014 and the venue and host for the AOTCA 2015 meeting. Prior to the Hanoi meeting JFCPTAA had submitted a proposal to host the 2015 AOTCA meeting in Osaka, Japan to AOTCA. This proposal approved unanimously, JFCPTAA President Ikeda made a short speech on the significance of holding the 2015 meeting in Osaka, which is his hometown, and wished to welcome as many delegates as possible to Osaka in 2015.
Also, the meeting confirmed that, based on the AOTCA's mid-term visions "to become a tax professional organization which is widely recognized as an influential body", AOTCA will continue to promote the project on Taxpayers' Charter in collaboration with STEP and CFE, and to strengthen its international relationships with global bodies such as SGATAR, OECD and West African Union of Tax Institute (WAUTI).

Following the regular meeting, the tax conference was held with the topics of various issues on international taxation in the afternoon of 17th and the morning of the following day. In the technical session on "Transfer Pricing and APA Process", Ms. Mie Seyama, committee member of the International Relations, representing JFCPTAA made a presentation and she emphasized that the Advance Pricing Agreement, the system of which Japan pioneered is most effective to prevent TP disputes.
AOTCA will hold a regular meeting in Taipei in October 2014.
President Ikeda visits Prime Minister Abe
3 Oct. 2013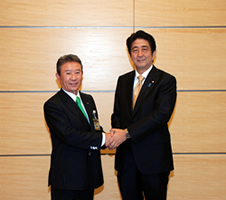 On 20 September 2013, JFCPTAA President Toshihiro Ikeda, accompanied by President Tatsumi Yamakawa of the CPTA Political League, paid a courtesy visit to Prime Minister Shinzo Abe (right in photo) at the Prime Minister's Office to submit the 2014 proposal on Certified Public Tax Accountants Act (Zeirishi Act) and the proposal concerning FY 2014 Tax Reform.

President Ikeda explained to Prime Minister Abe that JFCPTAA prepared this proposal on the Zeirishi Act from a viewpoint that will contribute to improving the convenience of taxpayers as well as Japanese people and he requested the revision of the act will be realized in an ordinary session of the Diet in FY 2014.

As for the 2014 proposal on tax reform, JFCPTAA and regional associations present proposals to the government from a viewpoint of tax professionals every year as stipulated in the Zeirishi Act. Explaining this to Mr. Abe, President Ikeda requested the contents of the proposals will be realized.
57th General Meeting held in Tokyo – 4th Ikeda administration starts
31 July 2013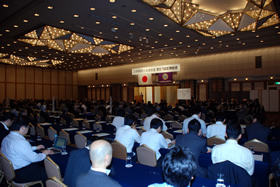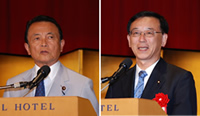 On 25 July 2013, JFCPTAA convened its 57th General Meeting at the Imperial Hotel in Chiyoda-ward, Tokyo. In this annual meeting were unanimously approved the business and budget plan for the fiscal year 2013 and other four agenda.

In the election of officers for a new term, the incumbent president Ikeda was reelected as JFCPTAA President, who started his 4th term of office. Also, 15 vice presidents, 100 directors and other officers were appointed. The term of office is two years starting on 26 July 2013.

After the General Meeting, JFCPTAA held a reception, which was attended by several hundred participants including many guests from various fields, former JFCPTAA officers. Representing the distinguished guests, Mr. Taro Aso, Minister of Finance and Mr. Sadakazu Tanigaki, Minister of Justice gave a congratulatory address.
JFCPTAA first meets Taiwan Bookkeepers'Association
24 June 2013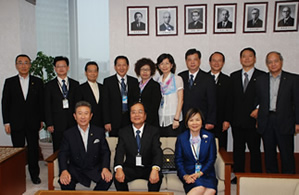 The delegates of the Certified Public Bookkeepers Association of R.O.C. visited JFCPTAA for the first time to study about Japanese tax professional system on 6 and 7 June 2013.

On 6 June, President Shi and other officers of the Taiwan Association met JFCPTAA President Ikeda, Vice president Omae, Senior Managing Director Asada, and Managing Director Nakamura at the office in Tokyo. Both presidents agreed on mutual cooperation for the development of tax professions in both countries.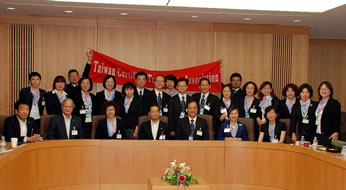 On the next day, a special seminar was held for Taiwan delegates. At the beginning of the seminar, Taiwan President Shi said, "we have long desired to visit your Federation because Japanese tax professional system has a long history, compared with our profession with only 7 years of history. We have a lot to learn from the Japanese tax profession. Also, I would like to take this opportunity to deep mutual friendship between both organizations."

The topics of seminars included outlines of the Zeirishi system, structure of JFCPTAA and Japanese income tax, which were explained by Director Tomori, Mr. Takami and Mr. Matsuoka of JFCPTAA International Relations Committee.

In Taiwan, the Certified Public Bookkeepers Law came into force in 2004 and its first national examination was carried out in 2005. Since then local professional associations for bookkeepers were founded one after another in each area, and the Bookkeepers Association as national level was founded in 2007. At present, the Association has some 2300 membership.
New Year's Reception held in Tokyo, attended by Prime Minister Abe
16 Jan. 2013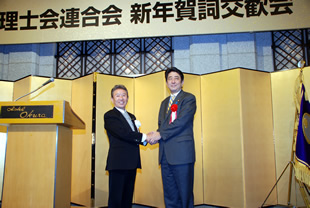 On 10 January 2013, JFCPTAA hosted an annual New Year's reception at Hotel Okura in Minato-ku, Tokyo, with the attendance of Prime Minister Shinzo Abe.

At the reception Prime Minister Abe made a short message, "I look forward to great cooperation and assistance from all of you here in order for the smooth operation of taxation as well as for further growth of SMEs all over Japan. "

On behalf of the Federation, President Ikeda made a greeting that "we hope a revision of the Zeirishi Act will be realized not for the sake of ourselves but in view of Japanese people so that the tax profession in our country can steadily respond to the people's trust."

This year's reception was attended by some 600 guests from business, politics and other fields including 71 Diet members and 175 of their deputies, who wished mutual happiness and good health as well as business prosperity for the year. The distinguished guests included Minister for Internal Affairs and Communications Yoshitaka Shindo, Minister of Justice Sadakazu Tanigaki and Senior Vice Minister of Finance Yuko Obuchi.
Mongolian diet members, Association officers visit JFCPTAA for further study on Japanese tax profession
19 Apr. 2013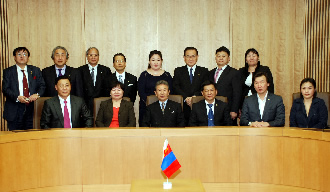 With collaboration of the Chiba-ken Association, JFCPTAA held special seminars on Japanese tax professional system for Mongolian delegates on 19 and 21 March 2013. The seminar held on 19 March at Tokyo was attended by from JFCPTAA, President Ikeda, Vice President Omae, Vice President Ishii, Senior Managing Director Takada, Director Tomori of International Relations Committee, Committee members Tajiri and Akiba, and from Mongolia, Diet members Mr. T. Davaasuren, Mr. J. Erdenebat, and Mr. S. Ganbaatar and President of the Mongolian Association of Certified Tax Consultants Mrs. Altanzaya and other officers of the association.

Long desired in Mongolia, the law on tax consulting services was enacted in December 2012.

At the beginning of the seminar, Mr. Davaasuren, on behalf of the Mongolian delegates, made a greeting that "since the tax professional law of our country contains many parts of the Certified Public Tax Accountant (Zeirishi) Act, we have to learn more from Japan in the process of practical operation of our law. We will make efforts so that it should be properly applied and be firm rooted in Mongolian people's lives.

The topics of seminars included outlines of Zeirishi system and structure of JFCPTAA; the Zeirishi examination and professional training; research activities; activities regarding tax reforms; registration procedure and supervision of Zeirishi; maintenance of ethics on the profession.

As part of the seminar, the Mongolian association President Altanzaya made a presentation on Mongolian tax professional law to explain the legislation process as well as the purpose and she emphasized that "there are a lot of issues to be solved regarding this law, however, it is our mission to make this law well-known by Mongolian people and to disseminate its existence."

Established in 2004, the Mongolian Association has promoted activities for the legislation of the tax professional law. JFCPTAA, which concluded the friendship agreement with the Mongolian body in 2009, has supported activities of the Mongolian counterpart for that purpose.