What is a Certified Public Tax Accountant?

About Japan Federation of Certified Public Tax Accountants' Associations

 
Information
AOTCA convenes 2014 Meeting in Taipei, Taiwan―JFCPTAA President Ikeda to be next AOTCA President―
21 Nov. 2014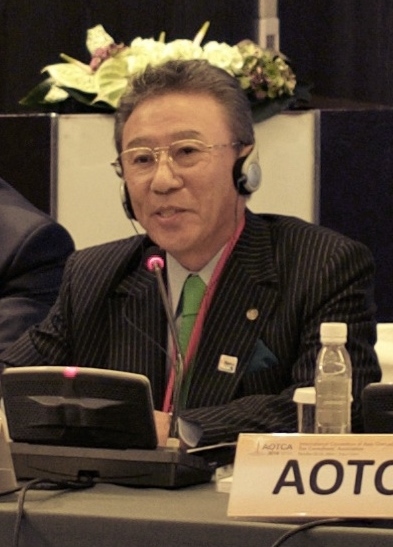 The Asia-Oceania Tax Consultants' Association (AOTCA, President Mr. Thomas Lee) convened its 2014 Taipei Meetings at Hotel Regent Taipei in Taiwan from 22 to 25 October 2014. Hosted by the Tax Accountancy Association Union, Chinese Taipei (TAAUCT, President Mdm. Tsai, Chao-Ling), this year's meeting was attended by nearly 370 overseas and domestic participants including 60 Japanese delegates.

The regular general meeting held on 23 October deliberated various important agenda including the business plan and budget of Fiscal Year 2015.
Based on the Association's mid-term visions "to become a tax professional organization which is widely recognized as an influential body", the business plan of FY2015 included (1) to strengthen its international relationships with global bodies such as SGATAR, OECD and West African Union of Tax Institute (WAUTI) for the establishment of "Global Tax Advisors Cooperation Forum for tax advisors", (2) to continue to promote the project on Taxpayers' Charter in collaboration with STEP and CFE, (3) to set up a technical committee to address current developments in international tax laws, regulations and compliance matters which affect tax professionals, and other matters. The business plan was approved unanimously.
As for election of AOTCA officers for 2015-2016, JFCPTAA President Toshihiro Ikeda was newly elected as President and KACPTA President Chung, Ku-Chug as Deputy President. As Secretary General was newly appointed JFCPTAA Senior Executive Director Katsuzo Nakamura. Incoming President Ikeda addressed 4 main tasks that he would do during his presidency to the member bodies. Those were to promote research and studies on professional studies, to strengthen its organization of AOTCA, to enhance cooperative relationships with the counterparts in other regions, and to promote the member bodies' participation to AOTCA activities.
In addition, the General Meeting approved a new member application from the Chinese Taipei Certified Tax Agents Association.

Following the regular meeting, the tax conference was held with the topics of various issues on international taxation such as BEPS and e-commerce on 23 and 24 October. Professor Minoru Nakazato of Graduate School of Law, the University of Tokyo made a speech entitled "Changing Attitudes toward BEPS: Differences in Accounting and Legal Perspectives". In the panel discussion entitled "Indirect Taxes Moves Towards a Destination based VAT/GST for Digital Services", JFCPTAA Member of International Relations Yoshihiko Nakanishi made a presentation, explaining Japan's current consumption tax system for the cross-border digital services and the proposals on taxation of those services by Japanese Ministry of Finance.

The 2015 AOTCA regular meeting to be hosted by JFCPTAA will be held in Osaka, and the 2016 meeting in Hong Kong.
Tax Officials, Officers of Professional Body from Vietnam visits Japan
30 May 2014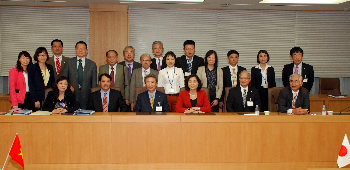 Vietnamese tax officials and officers of Vietnam Tax Consultants Association (VTCA) visited Japan from 11 to 17 May 2014 to study Japan's tax professional system.

On 12 May, the delegates headed by Ms. Tao Thi Hoang Anh, Director of Taxpayers' Services and Propaganda Department of General Department of Taxation including Mr. Nguyen Dinh Cur, Vice President of VTCA and another VTCA executive member visited the JFCPTAA Hall in Tokyo. JFCPTAA President Toshihiro Ikeda, Vice President Hiroaki Tomori, Senior Executive Director Katsuzo Nakamura and, from the International Relations Committee Chairman Yoshimasa Tajiri, Deputy Chairman Masahiko Takami and Deputy Chairman Nobuaki Matsuoka welcomed 14 Vietnamese delegates.

At the beginning of the meeting President Ikeda made a welcome address, "Japan's tax professional system is a pioneering presence with a long history of 72 years. Over the years, we have built social confidence as tax professional. We are proud of having contributed to the smooth operation of self-assessment system and securing of national finances. I hope today's study meeting will help for the development of tax professional systems and tax administration in Vietnam.

The lecture consisted of two parts, Part 1: Watching a video titled "What's Zeirishi, CPTA?" and Part 2: Registration procedure of CPTAs lectured by Chairman Tajiri. Following the lecture, the question and answer session was so vigorous that Vietnamese delegates raised a lot of questions especially on CPTAs' registration.

In Vietnam, the tax professional system was legally introduced in 2008. Since then, various measures have been implemented to defuse and develop the profession. In 2010 JFCPTAA concluded the friendship agreement with VTCA to support their activities related to Vietnamese tax profession. Since then, JFCPTAA and VTCA promote mutual understanding and cooperative relationship for the development of tax profession in both countries.

During their stay in Japan the delegates visited the Nagoya Regional Association in Nagoya, the Kinki Regional Association in Osaka and Kyoto, the National Tax Tribunal in Tokyo and other Regional Taxation Bureaus.
Regular Bilateral Meeting between JFCPTAA and Korean counterpart held in Osaka
30 May 2014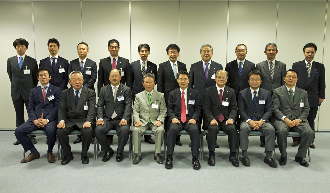 On 8 May 2014, JFCPTAA and the Korean Association of Certified Public Tax Accountants held the 18th regular meeting at the Kinki regional association's hall in Osaka. The meeting was attended by President Toshihiro Ikeda, Vice President Yoshimi Miyata, Vice President Hiroaki Tomori, Senior Managing Director Katsuzo Nakamura, Chairman Yoshimasa Tajiri and three Deputy Directors of the International Relations Committee from JFCPTAA, and President Chung, Ku-Chung and other five officers from KACPTA. Since 1997 this bilateral meeting has been annually convened in Japan or Korea by turns to share experiences and to exchange opinions on issues which both bodies currently face.

Before the meeting started, all attendees dedicated a moment of silence for the victims of a tragic ferry disaster which recently happened near Jindo Island in South Korea.

In his welcome address, President Ikeda said that the amendment of CPTA Act was implemented in March this year and he was determined to make an every effort to contribute to its proper operation.

The discussion of this year highlighted various changes in the profession and taxation in both countries. In Korea, the relevant act amended this February has come to allow CPTAs to offer services related to labor and social securities. Mr. Chung explained this means professional services which Korean CPTAs can offer have further expanded.

On the other hand, Japan's CPTA Act was recently amended so that a CPA, previously granted the qualification as CPTA, has to complete the designated training rerated to tax laws in order to become a CPTA. JFCPTAA President Ikeda explained to the Korean counterparts how this amendment was established and said this was a long-standing issue that should be solved.

Also, they discussed rolls of tax professional bodies in tax education, the Social Security and Tax Number System to be introduced in Japan in 2016 and other issues.

At the end of the meeting, both presidents confirmed that they would make further cooperation for the development of tax profession in Japan and Korea.